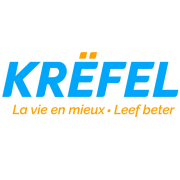 About us
1958, niet alleen het jaar van de Wereldtentoonstelling…
In 1958 ontstond de firma Krëfel uit het idee van een man die een ongeëvenaarde prijs, service en kwaliteit wilde bieden op de nog weinig ontwikkelde markt van huishoudelektro. Die man, Auguste Marcel Poulet, haalde voor de naam zijn inspiratie bij de Duitse stad Krefeld. Zo gaf hij zijn onderneming een Germaanse klank - synoniem voor superieure kwaliteit en duurzaamheid. Sinds de oprichting van Krëfel is er heel wat veranderd in de wereld van consumentenelektronica. Toch doen we er nog steeds alles aan om dezelfde waarden dagelijks in de praktijk te brengen.
Krëfel doorheen de tijd
In de jaren 60 maakte Krëfel naam via postorderverkoop en de introductie van vernieuwende producten op de markt: tv's, wasmachines, koelkasten en fornuizen hadden een grote impact op het leven van de gezinnen. Geleidelijk breidde de keuze zich uit met meer productgamma's. In de loop der jaren maakten de eerste Krëfel verkooppunten van amper 60 m² plaats voor 74 ultramoderne showrooms, waarvan sommige een oppervlakte van 3.000 m² hebben. Je vindt er gegarandeerd de laagste prijzen, een team van gepassioneerde consulenten die regelmatig opleidingen volgen en informatie krijgen over de nieuwste technologieën, en een voorbeeldige dienst-na-verkoop.
Aan bepaalde spitstechnologische en gespecialiseerde domeinen schenken we bijzondere aandacht via advies, uitgebreide gamma's en een specifieke presentatie.
Een veertigtal verkooppunten beschikken zelfs over een Krëfel Keukens showroom. Je ontdekt er een ruim assortiment uitgeruste keukens op maat, voor elke smaak en elk budget.
De wereld van multimedia en geavanceerde IT presenteren we onder de naam Tones. De meest veeleisende "geeks" vinden er hun gading: pc's op maat van hun persoonlijke wensen en behoeften, een breed gaming-gamma, hard- en software, … – allemaal met advies van professionals.
De kunst van het tafelen krijgt tegenwoordig veel aandacht. Met het gamma van Cook'in Style kan je jouw keuken decoreren, uitrusten en optimaliseren, maar ook jouw dagdagelijkse of feestelijke tafel een speciale toets geven. Ideaal om iemand een plezier te doen of jezelf te verwennen… We werken samen met de grootste merken om jou in de watten te leggen.
Sinds 2019 bundelen we de krachten met onze Franse sectorgenoot Boulanger, een belangrijke stap in de groei van het bedrijf met behoud van ons Belgisch DNA.
Een moderne onderneming met verantwoordelijkheidszin
Sinds de oprichting is de exploitatiezetel in Humbeek 15 keer groter geworden. Momenteel beslaat de site een oppervlakte van meer dan 45.000 m², kantoren en opslagruimten inbegrepen. We hebben speciale aandacht besteed aan het milieuaspect, met onder meer 2.200 zonnepanelen op de daken. We steken veel energie in energiebesparing!
Chauffeur - Installateur Hasselt