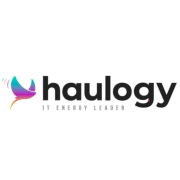 About us
Haulogy is a publisher of software mainly dedicated to distribution grid operators and energy suppliers operating in the gas and power markets.
As a key player in the liberalisation and digitalisation of the energy sector, haulogy has developed a range of products and services to support the energy transition.
Constant investments in R&D and the trust of our customers have enabled us to develop software covering a wide spectrum of the energy market: energy sharing, flexibility management, electrical mobility, billing, network management, congestion management, etc.
Thanks to its solutions and services, haulogy covers most of the value chain of the players in this sector: distribution network operator, supplier, aggregator, energy sharing manager, producer, customers,...
The flexibility of our solutions allows us to offer solutions from large international players to small local players.
Haulogy has experienced strong growth in recent years and the future perspectives are excellent.
Solution Consultants (H/F)